Builders never take a break! While many were lounging by the pool and enjoying the summer sun, DexGuru was doing what we do best, building the trading terminal that DeFi needs.
This summer, we made some of our most significant trading terminal additions. Our goals were dynamic, whether it be adding DEXs, more data on token holders or displaying LP positions - each task was a success and benchmark for future growth. Let's look into what was accomplished and why the terminal today is better than ever.
New AMMs and DEXs
What do you call a guru with data from AMMs across eight chains? DexGuru!
Since the 2022 spring update, we've added 17 new DEXs and indexed all of their tokens, liquidity and trading volume:
MDEX (BSC)
KnightSwap (BSC)
Swap by Safemoon (BSC)
Titano (BSC)
JFSwap (BSC)
OrbitalSwap (BSC)
Fstswap (BSC)
Pandora (BSC)
STEPN (BSC)
STEPN (ETH)
Swapsicle (Avalanche)
Meshswap (Polygon)
ComethSwap (Polygon)
Dystopia (Polygon)
Uniswap v3 (CELO)
ZipSwap (Optimism)
Velodrome (Optimism)
WigoSwap (Fantom)
Here is a complete list of our indexed DEXs across Ethereum, BSC, Fantom, Optimism, Arbitrum, Celo, Avalanche, and Polygon.
Once a DEX is added to the DexGuru terminal, traders can dive into any pooled asset on the DEX. If you love interacting on EVM-compatible chains as much as we do, you'll never have to miss out on data from your favourite tokens! Since our Spring 2022 Update, we've indexed over 1.2 billion events for our users. Whether swaps, burns, mints, or token transfers - we have the data!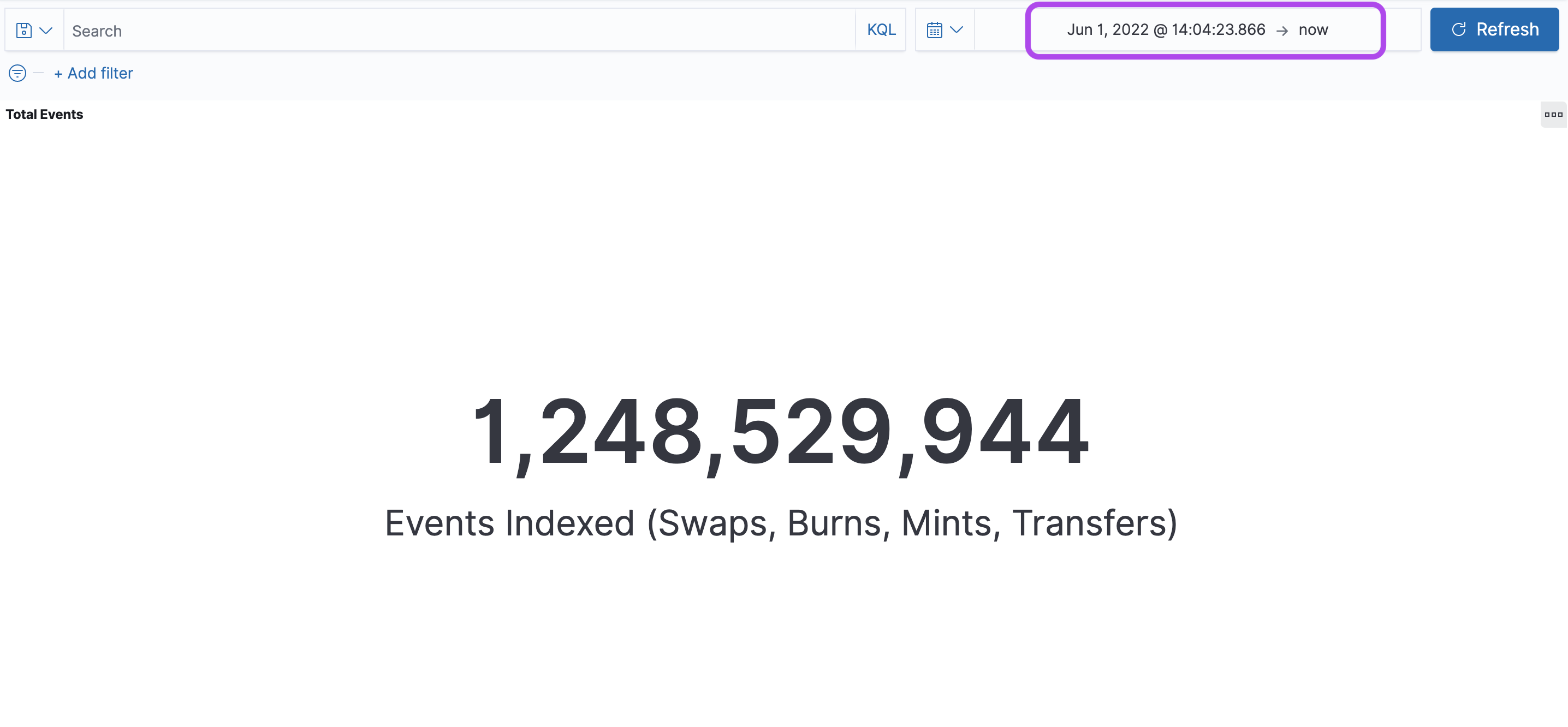 We also have that data for those interested in where swaps are taking place. Below is a block diagram showing the makeup of the volume on DexGuru. Uniswap v3 takes the cake with over 70% of the volume, without a surprise, as they cover many different chains. Coming in 2nd with just over 7% of this summer's volume is the BSC native Pancakeswap.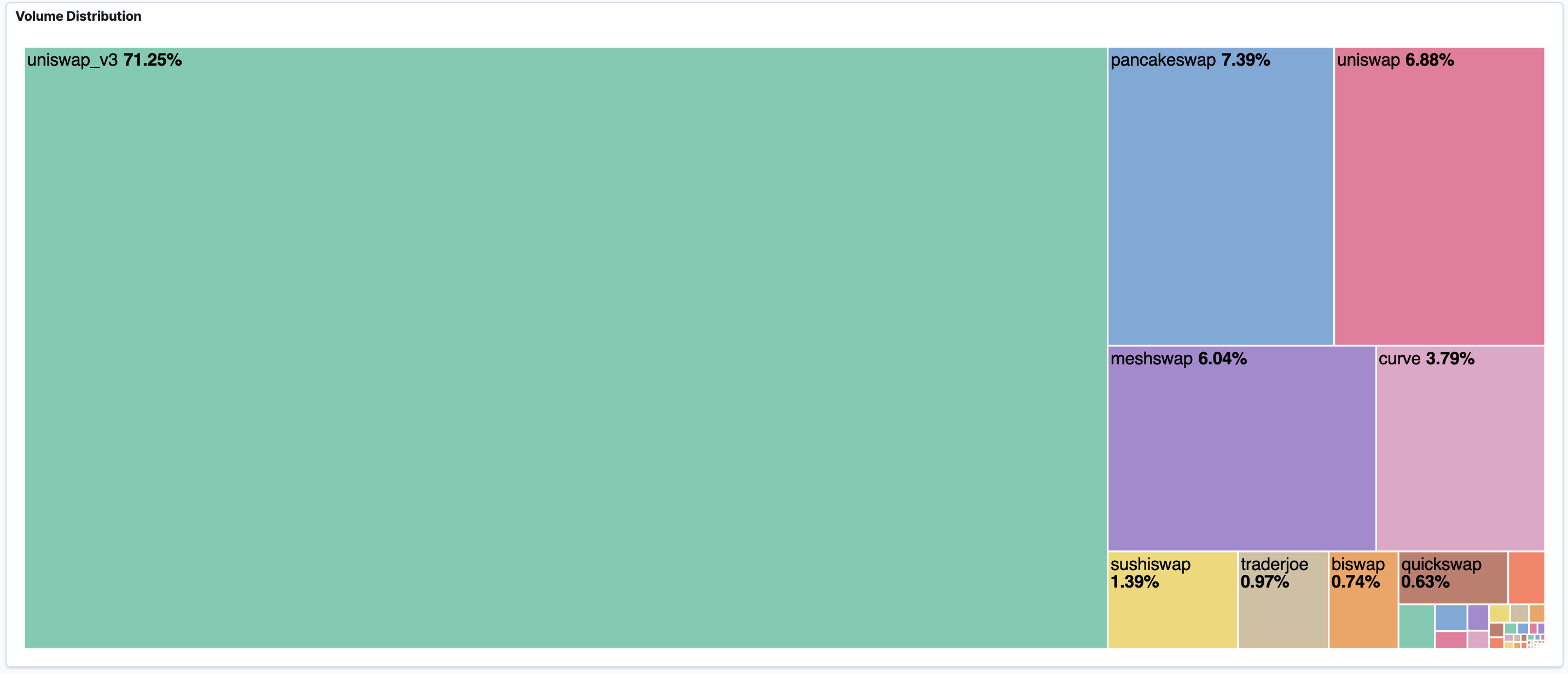 Top Token Holders Labelling
Active DexGuru users know the value of the top token holders data. Users can view the top 100 holders for any given asset, the amount held, seven-day change, and average acquisition price. This tool gives a great insight into the actions of the most prominent market players. We decided to enhance the tool by labeling the holders. Now users can see whether a top holder is a private wallet (wallet emoji), liquidity pool address (ice cream emoji), or smart contract (writing emoji). This update brings us further in our mission to conveniently provide the most accurate on-chain data.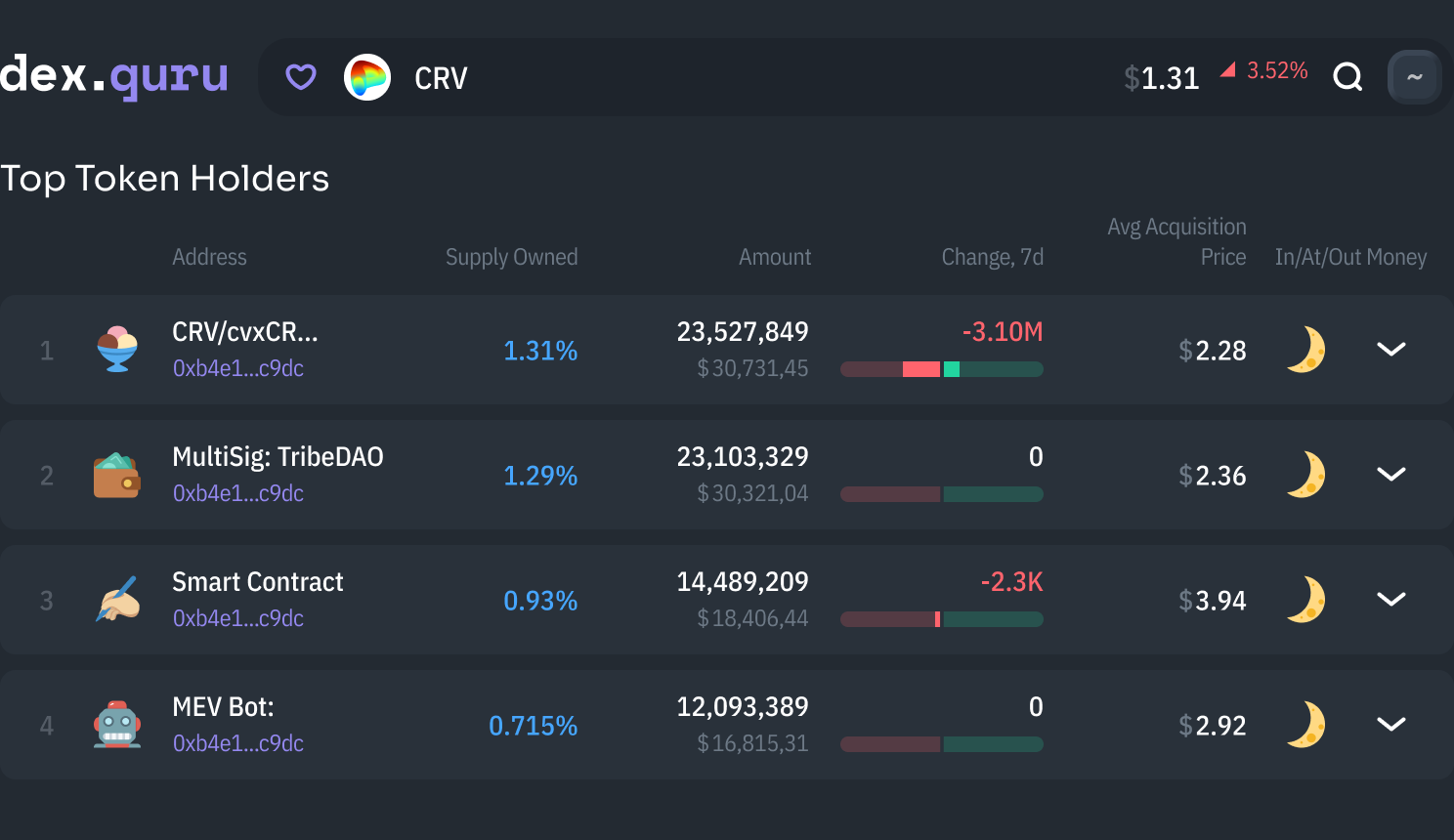 Liquidity Pool Tokens in the Account Profile
The "My Trader Profile" tab is built to give DexGuru users an overview of their on-chain tokens with a complete wallet analysis. For a while, trading terminal users have been able to view the tokens in their wallet, their current balance, average acquisition price, and more. We expanded on this feature because active DeFi users don't just hold tokens but use them to provide liquidity. After entering your trader profile, click the liquidity tab to view all your LP positions and the data surrounding them for a complete wallet overview!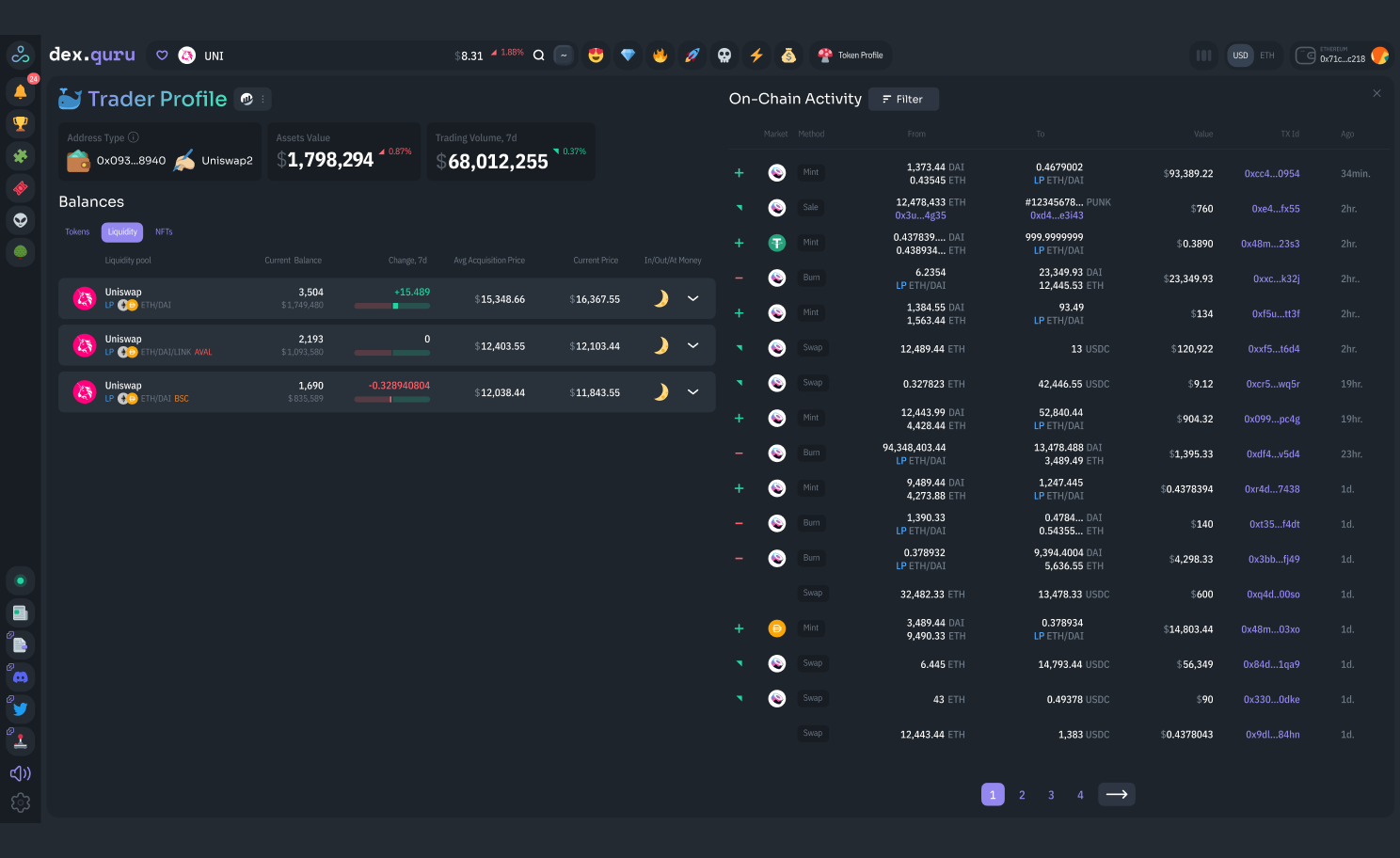 Trading on Arbitrum
If you've been active on Crypto Twitter over the past few months, you may have seen the hashtag #L222 floating around. As Etherean's yearn for scalability and cheaper transactions, 2022 has been the year for Layer 2s, also known as L2s. Arbitrum is leading the pack with adoption, and we decided to offer a way into the action!
⚡ TVL of Layer 2 Ethereum Scaling Solutions On-chain Data

TVL of #L222 : $5.86B

🥇@arbitrum
🥈@optimismPBC
🥉@dYdX
🏅@loopringorg
🏅@MetisDAO
🏅@zksync
🏅@Immutable
🏅@ZKSpaceOfficial
🏅@bobanetwork
🏅@SorareHQ pic.twitter.com/JrfGyxVS1H

— Ethereum Daily (@ETH_Daily) August 17, 2022
DexGuru users can now swap into assets on Arbitrum! Thanks to our friends at 1inch, DexGuru users have exposure to assets on the leading Ethereum Layer2 directly through the terminal. All you need to do is make sure your wallet is connected to the Arbitrum network and then trade.
Alerts
As we all know, crypto moves fast. Asset prices can rise or fall over 10% daily and make sharp movements from market news. No one likes being the last to act, and we don't want DexGuru users to miss a single market movement. This is why we recently released v1 of DexGuru alerts and notifications. Users can currently set alerts for price changes in their favorite tokens; once that alert is triggered, it will be displayed in a personalized feed for the user. This can be done by clicking the bell icon on the left-hand side of your web browser's screen.

We are working hard to bring new, more complex alerts shortly, along with the functionality to have triggered alerts deliver notifications directly to users' Telegram.
Discord Bot
Whether you're a solo trader or a community of DeFi profit takers, your Discord server could use more DeFi data. We built the DexGuru Discord Bot for precisely this reason. Users can set the bot to trigger four types of alerts:
New tokens available for trading
Liquidity changes
Whale trades
Volume spikes
Here are some exciting examples of alerts you can build in Discord:
Monitor newly released tokens and never miss an opportunity to buy them early
To set up an alert for newly listed tokens with liquidity over $50,000, we are only interested in the Polygon platform at the moment. The command will look like this:
guru add newtoken polygon $50000
Never miss a hot market with volume alerts
To look for high-volume tokens on the Optimism platform, with the 5000% of its average hourly volume, set up the following command:
guru add volume optimism 5000%
Get more info on the bot through our docs.
Liquidity Indicator
DexGuru has been displaying liquidity data for your favorite tokens for a long time. We decided to take liquidity data to the next level by releasing our token liquidity indicator. Traders can now view the liquidity of any given token over time! This indicator can be displayed below any token's chart by selecting the indicator button and then searching for "Token Liquidity."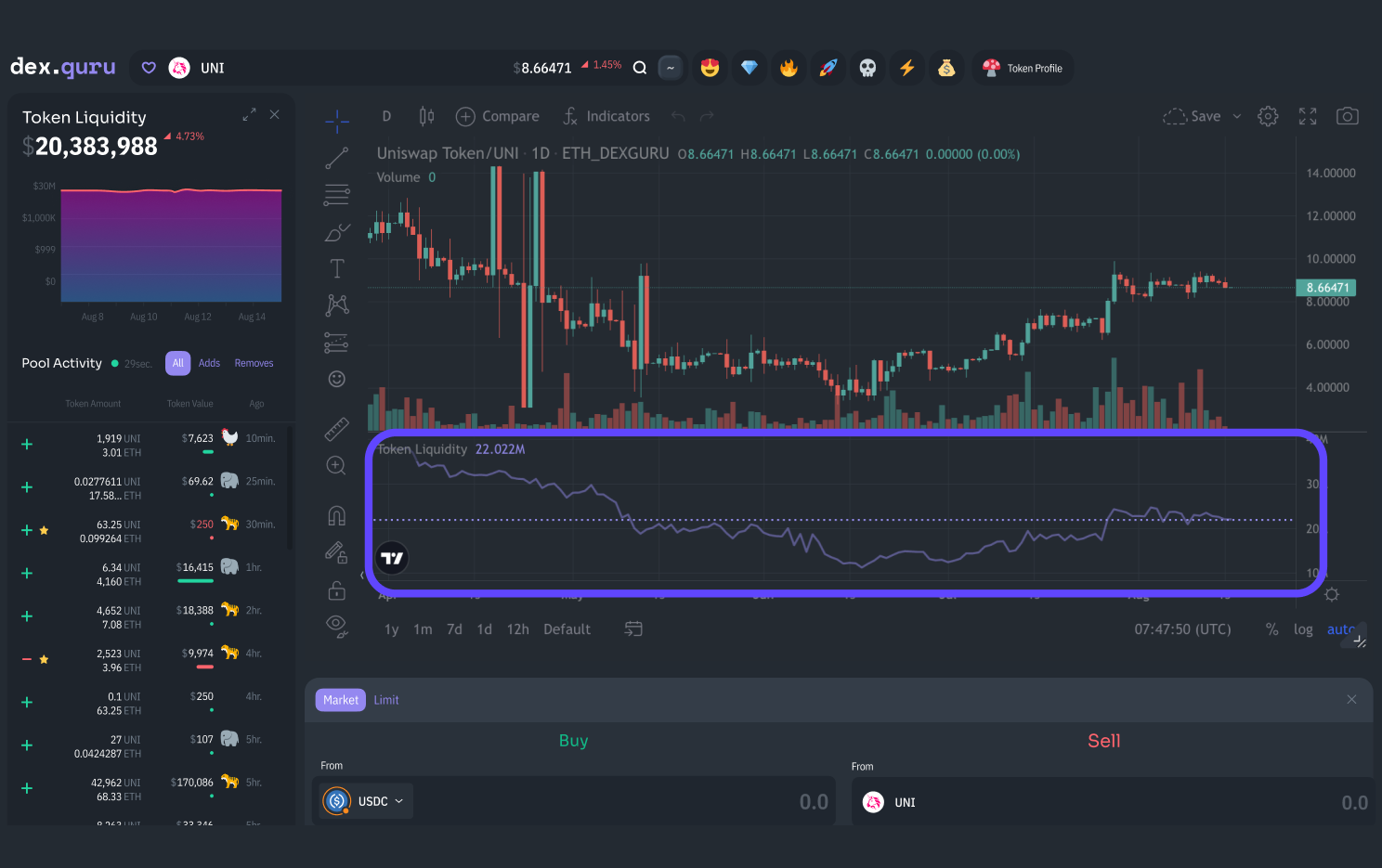 Profile Labelling
If you're an avid DexGuru user, you may have noticed something different about the profiles in the terminal. We can now label three unique address types as an externally owned account, smart contract or liquidity pool. These convenient labels are visible when navigating the top token holders and analyzing a specific trader profile!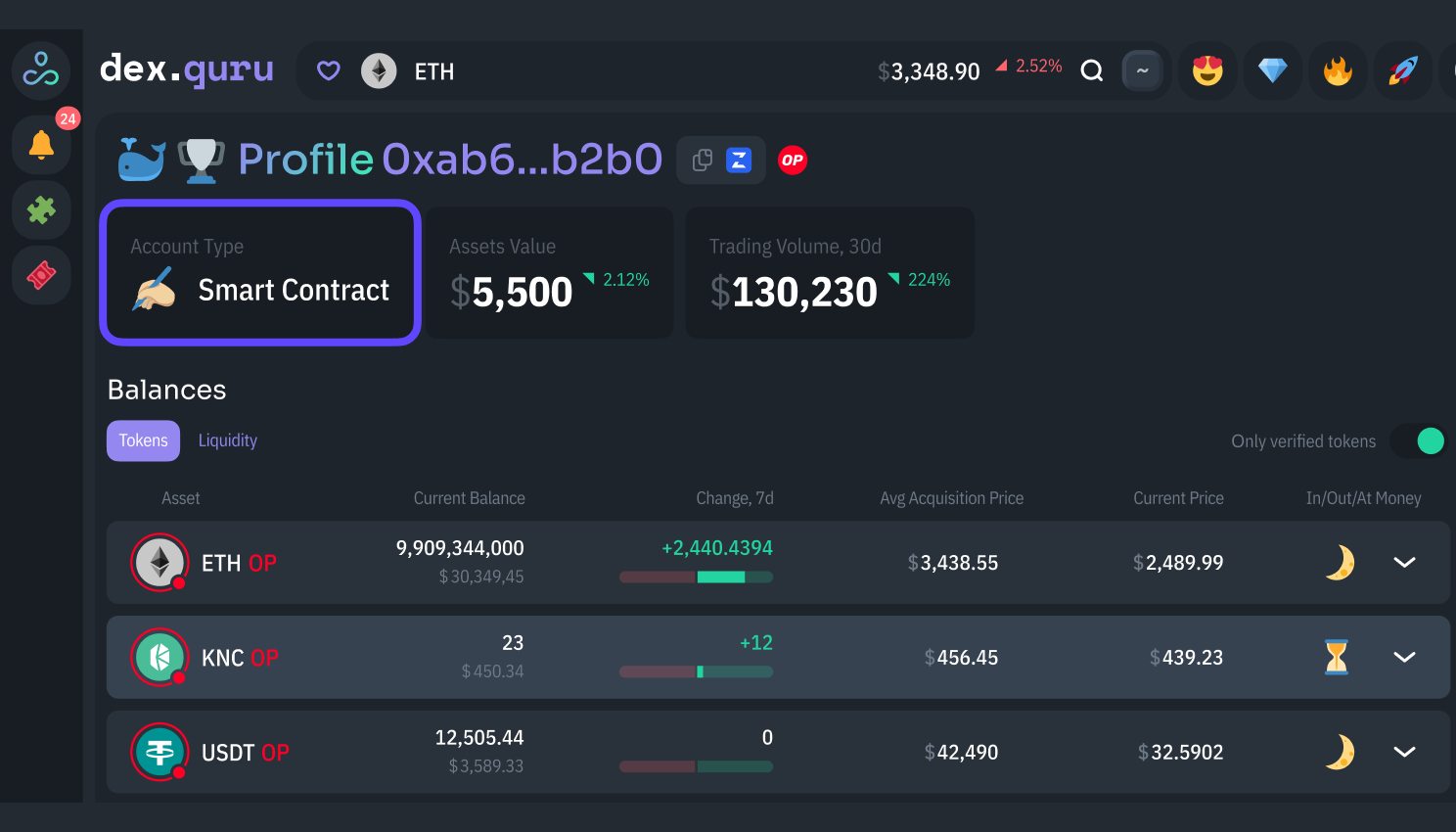 Limit Orders
When it comes to placing buy and sell orders, there are two ways to do it. The first is market orders; these are the most common types of trade in DeFi. Market orders are when a trader wants to execute a trade immediately at the market price; these trades get filled on the spot. The second type of trade is limit orders. Traders place limit orders when looking to sneak into an entry or exit at a later date. For example, if ETH is trading at $2000, user A can set a limit order to buy 1 ETH once ETH hits $1500 - if ETH never hits $1500, the trade is never executed.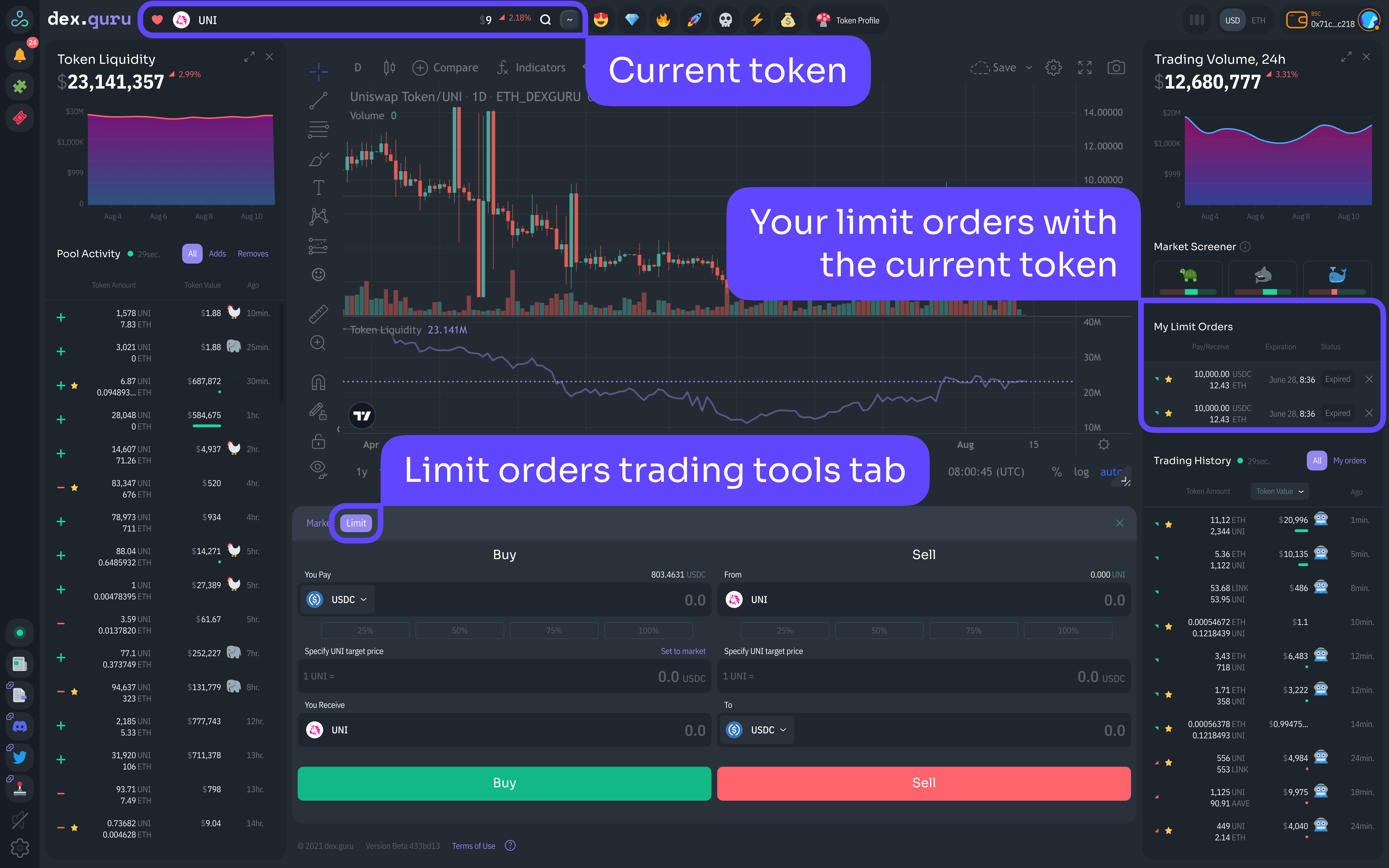 Fortunately, DexGuru now offers both options for users. Using 1inch Protocol, traders can make limit orders and market orders at the best rate through DexGuru. Placing a limit order is as easy as: picking a token, setting your target price and expiration date, and sitting back and relaxing while your trades are placed!
Feedback Board
Our main goal at DexGuru is to build the DeFi trading terminal users want and need! Feedback from users is the best way to sculpt the terminal to perfection, and we want as much as possible.
Recently a "Make a Suggestion" button was added at the bottom of the terminal. This is where users can add a suggestion to the board and upvote previous suggestions to show support for the change. Our team frequently checks the board for feedback and builds around the suggestions.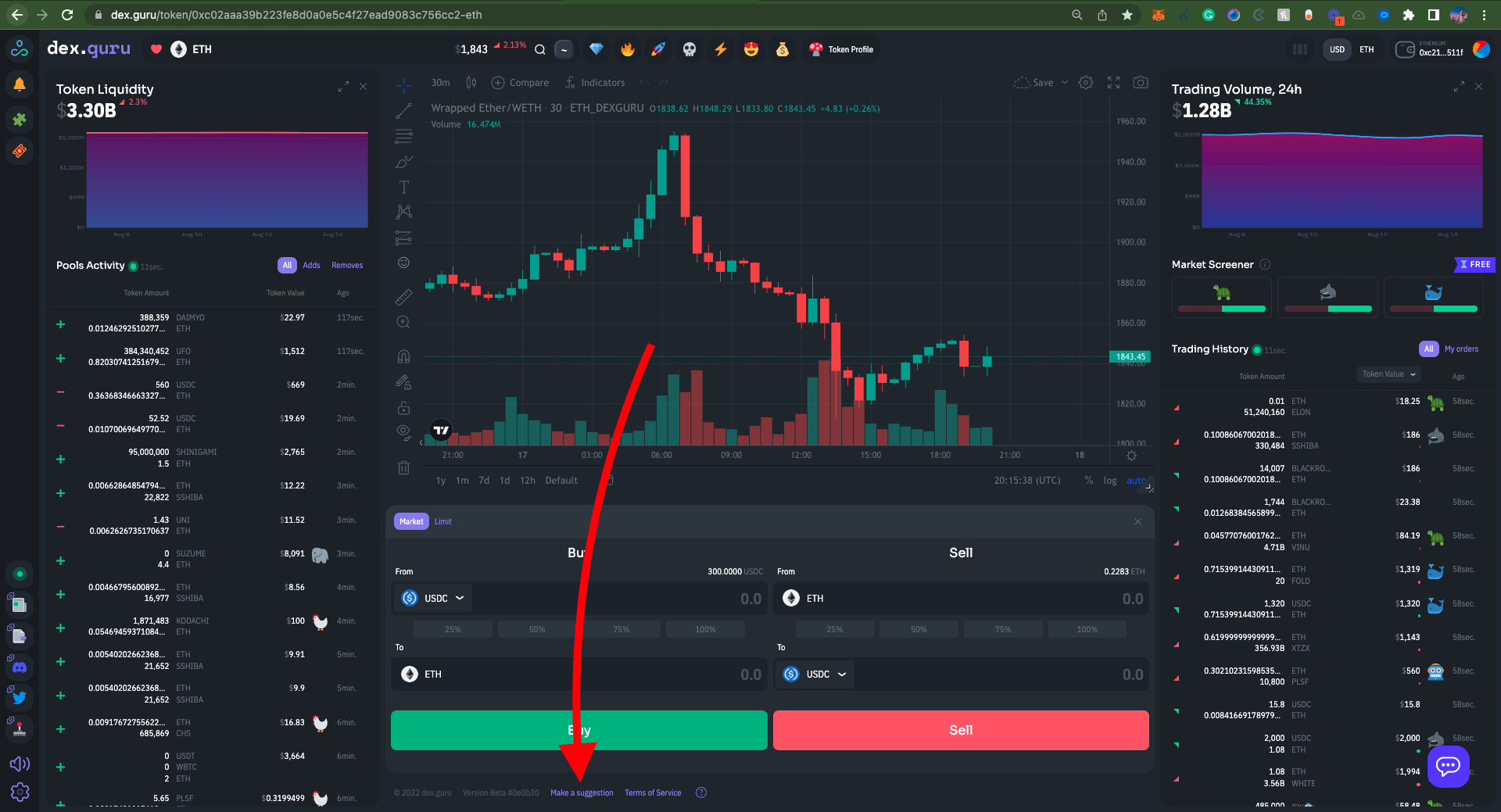 Stay tuned for more updates as we continue to build the best trading terminal in DeFi!