TL;DR
We recently closed a $1M seed investment round led by ParaFi Capital
It will allow us to build the best trading platform for modern web3 traders across all major EVM compatible chains
Today, DexGuru is excited to announce a $1M financing round led by ParaFi Capital to develop a Web3 trading platform that helps traders analyze data across major EVM-compatible blockchains.
In addition to ParaFi, DexGuru is proud to welcome the support of Lemniscap, The LAO, Divergence Ventures, and BitScale in addition to Loi Luu from Kyber, Evgeny Yurtaev from Zerion, Julien Bouteloup, and Calvin Chu, who've joined this round as strategic angels.
We also want to extend a special thanks to SushiSwap and 0xMaki for supporting DexGuru early on through their Community Grants programs.
Our Investors
Here are some inspirational quotes from our investors:
"The DexGuru trading interface is built for simplicity but packed with analytics and intuitive features. Long gone are the days of crypto UI/UX lagging tradFi fintech apps. We're excited to back DexGuru as it becomes the trading platform of choice for DeFi users."

Santiago R Santos, Partner @ ParaFi Capital
"By experiencing the usability pain-points of decentralised exchanges first-hand, we hold high conviction on DexGuru's product-market fit, and Nick's in-depth understanding of market dynamics and customer profiles additionally builds on that. We're proud to support DexGuru on their undertaking of bringing much needed convenience and analytical experience to decentralised trading venues."

Shaishav Todi, Partner @ Lemniscap
What is DexGuru?
At any given moment, large quantities of data are being generated as different blockchains record transactions of digital assets. This highly-valuable data can be used by individuals to uncover investment opportunities, conduct market research, and build new products.
As on-chain data, this information sits in the open for anyone to make use of but unfortunately, sifting through the sheer volume of it is nearly impossible without building custom tools. Further, this data is even harder to make sense of without specialized training.
DexGuru combines advanced analytics and research tools with powerful trade execution capabilities to help traders analyze permissionless, real-time data for every on-chain market — all in one fully-integrated UI.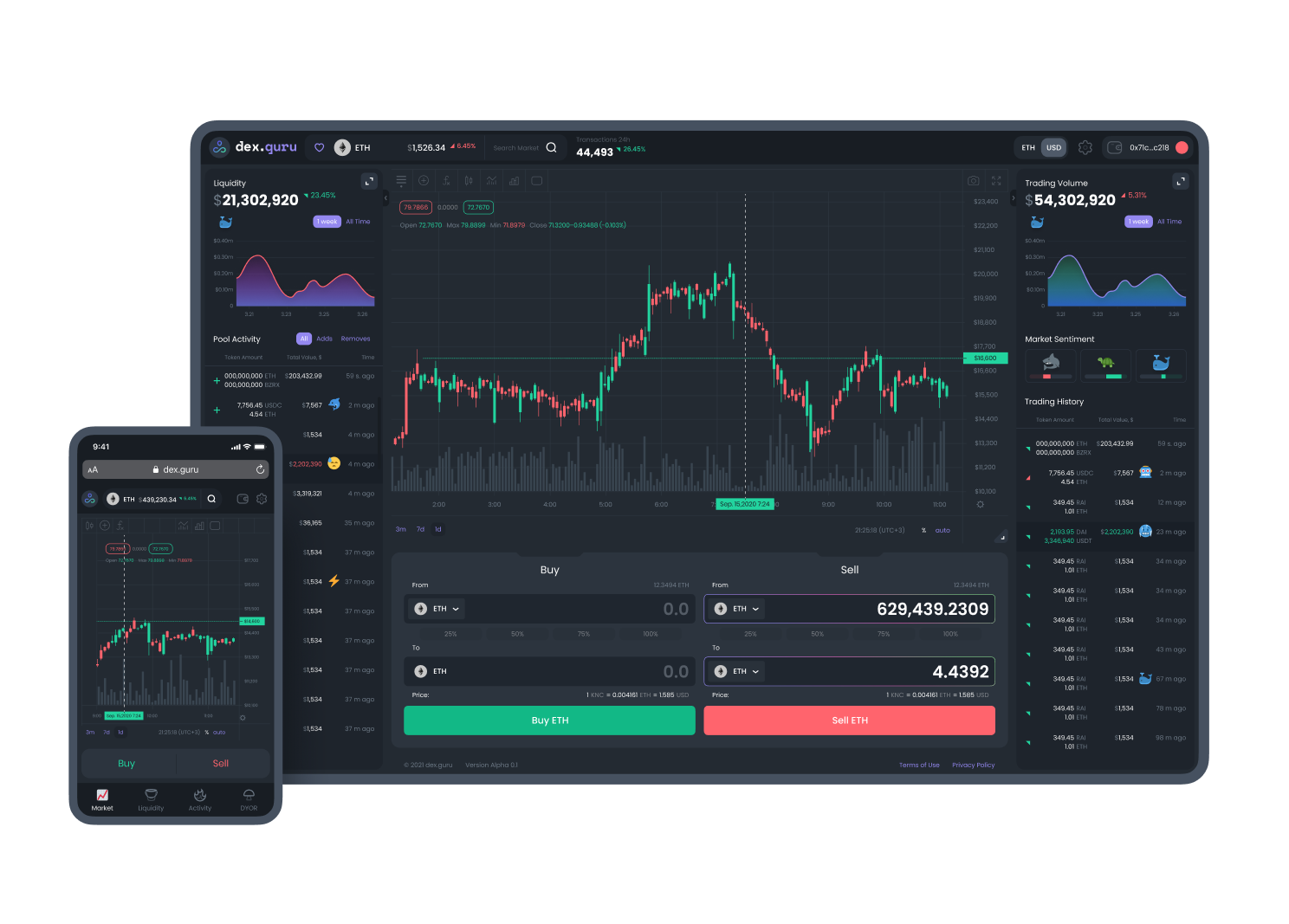 DexGuru provides unparalleled coverage of on-chain markets, integrated into one place and delivered in real-time. It means TradingView charts for any token listed on Uniswap, SushiSwap, or PancakeSwap. And yes, charting is always free!
DexGuru is a permissionless platform, so there is no application process or listing fees. Once a token has a liquid on-chain market on Uniswap, SushiSwap, or Pancakeswap, it will automatically be indexed and available at DexGuru.
We're here to help traders on Ethereum and BSC make informed decisions. We aim to add all major EVM compatible L1 and L2 solutions with significant on-chain activity by the end of 2021.
Thanks to the 0x Protocol API, DexGuru offers a trading solution with the most effective order routing on Ethereum and BSC chains. Now you can research markets and execute your trades in a single UI.
Any interaction with assets on-chain can be used for insightful analytics. We rank and label wallets based on on-chain trading activity, so you can access real-time deal flow for any token and who's buying or selling those tokens.
Even more exciting analytics features are coming in the next few months! Stay tuned for notifications of on-chain fund movement, whales accumulating or dumping, and directional market sentiment based on different traders categories.
Our long term goal is to build the "Bloomberg Terminal" of the DeFi space, where on-chain market data is presented in an actionable and insightful way.
Where are we now?
DexGuru launched its public beta 8 weeks ago and we've been overwhelmed by the support we've received from traders, who've already generated over $50m in volume on DexGuru.
When token, sir?
We deliberately choose to focus on a product first and prioritize development over an early token launch. We believe that a great, mature product with a clear product-market fit would capture much more value for token holders than the usual IDO money grab.
Please note: we don't have a token right now; be wary of possible scams. We are definitely going to add a token to our platform in the future. Watch out for an announcement with details on our token and please follow us on Twitter or Telegram to stay tuned!